Gallagher Golf Tournament - Wed 10 June to Tuesday 16th June 2009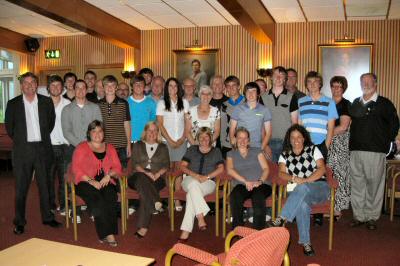 This was a return match in Scotland, leading on from the tournament that was held in Grapevine in 2008.
Colleyville High School were represented by:
Payne LaPosta
Max Manuel
Max Rosen
Patrick Sullivan
Melanie White
West Lothian's golfers were:
Sturat Boyle
Josh Renwick
Paul O'Day
Chris Rooney
Ryan Boyle
Glenn Ramsay
Jordyn Rhind
The golfers were accompanied by coach Terie Campbell and parents Wade White and Vince Rosen
After a tiring flight on Wednesday 10th June, the visitors were welcomed by the Twinning Association and the West Lothian participants at Almond Valley Heritage Centre where a hog roast bar-b-q and musical entertainmnet were provided.
Thursday saw a full day of golf at Bathgate Golf Club and Kingsfield Golf Centre, Linlithgow.
Friday's golf was at Dunbar.
The weekend included golf at Archerfield and a visit to St Andrews.
Monday's golf at Bathgate Golf Club saw fourballs in the morning followed by foursomes in the afternoon. At the end of the golf there was a dinner at Bathgate Golf Club for everyone, including host families, West Lothian Provost Tom Kerr, members of the Twinning Association and representatives of Bathgate Golf Club. The dinner concluded with the presentation of gifts and the trophy, which was narrowly won by West Lothian.