Culinary Exchange
Four West Lothian HNC Professional Cookery Students Visit to Grapevine
Four students had the pleasure furthering their education by visiting Grapevine for three weeks this year.
Not only did they progress their culinary knowledge, they viewed the social aspect of their visit as an outstanding life experience.
Maureen, from Grapevine's Convention and Visitors Bureau, created an exciting itinerary for both work and social activities. The highlights for the students were visits to food markets, 5 star hotels and the cookery competitions. I am happy to say that the students from West Lothian College scooped the title of Iron chef.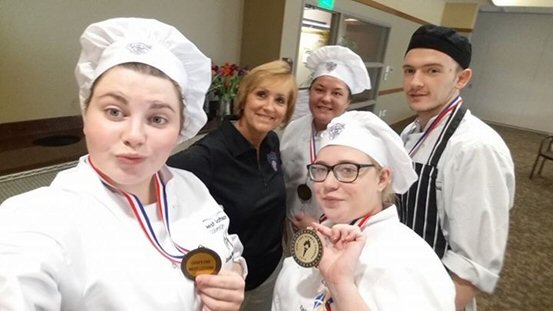 The host families could not have been more welcoming and everyone felt they had found new extensions to their families. With meals out, bowling, trips to water parks and baseball matches there was never a dull moment.
We even made it onto live national TV and received a great write up in the local paper. The hospitality was outstanding from the twinning committee, employers and host families and our students hope to meet up and extend hospitality in return to our next lot of Texan visitors.