10th Anniversary Visit from Grapevine Texas, 29 July to 6 August 2018


Grapevine City and Theatre Student Delegations with their West Lothian Hosts
A delegation from Grapevine visited from Sunday 29 July to Monday 6 August to celebrate 10 years of the twinning/sister city connection between Grapevine, Texas and West Lothian, Scotland. The Grapevine City Council delegation was headed by Councilwoman Sharon Rodgers, deputising for Mayor William Tate.
They were accompanied by a musical theatre group of seven young students from Grapevine High School with their teacher and adult supporters. They were great ambassadors for the young people of Grapevine and performed frequently during the visit. Most of the adults were home hosted and the musical theatre group stayed at Oatridge College.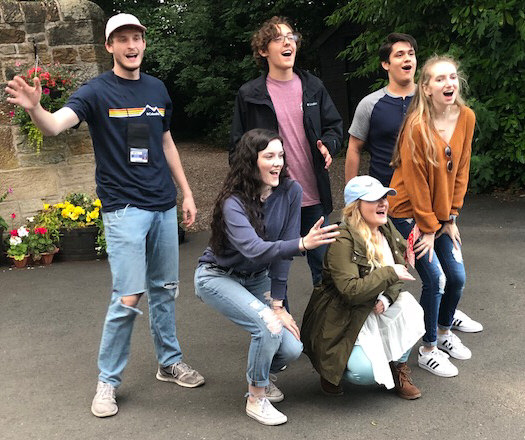 The Grapevine Theatre Group Performing at Linlithgow Canal Centre
Sunday 29 July: Arrival
Those arriving from Texas were welcomed and enjoyed lunch at the Park Bistro before being taken to their accommodation to settle in, followed by dinner at Bistro 19, Harburn Golf Course.
Monday 30 July: Linlithgow and Blackness
After lunch at the Four Marys, the adults visited St Peter's Episcopal Church and then Linlithgow Distillery, where Alyson and Ross Jamieson gave them a taste of LinGin and an excellent presentation on their new and rapidly expanding enterprise.
Meanwhile, Peter Kerr took the youngsters and some adults round Blackness Castle. The musical theatre group entertained those present by singing on the battlements.
Tuesday 31 July: Ayrshire
The two busses took our visitors to Burns Cottage/Museum, Culzean Castle and Trump Turnberry Golf Course.
In the evening they enjoyed a Bar-B-Q and a short boat trip at Linlithgow Canal Centre, with entertainment provided by Bob Proudfoot and Martine Stead of Linlithgow Folk Festival Association.
Wednesday 1 August: West Lothian & Official Reception
The delegates visited Linlithgow Palace, where Peter Kerr acted as guide, and St Michael's Parish Church followed by a buffet lunch at the Civic Centre in Livingston and a visit to Hopetoun House.


The Delegations with West Lothian Councillors in West Lothian Council Chambers
In the evening there was a civic reception and dinner at Houston House Hotel, complete with piper, candles, speeches and an exchange of gifts. The Grapevine High School group entertained us with excellent musical theatre.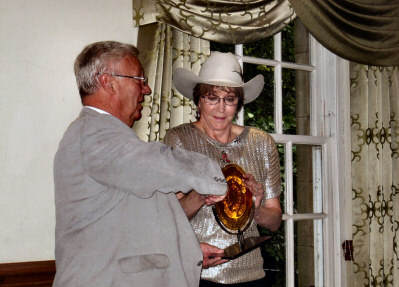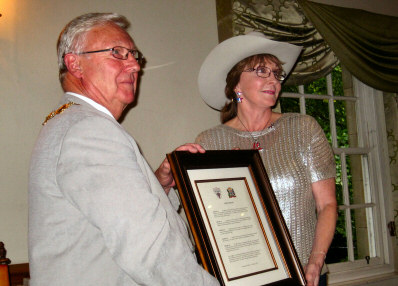 Provost Tom Kerr and Councilwoman Sharon Rogers Excange Gifts to Mark 10 Years of the Twinning/Sister City Link between Grapevine and West Lothian
Thursday 2 August: Loch Lomond and Glengoyne Distillery
The visitors enjoyed a boat trip on Loch Lomond, followed by a picnic lunch at Luss and a visit to Glengoyne distillery.
In the evening Tom Kerr provided a relaxed Bar-B-Q at his home.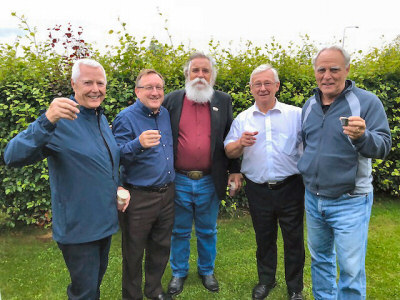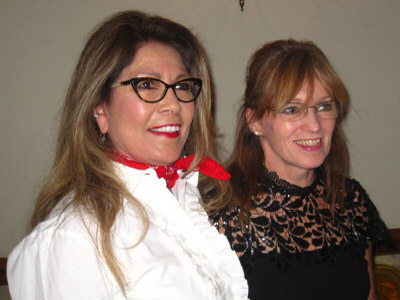 A Toast to Continuing Good Relations between Grapevine and West Lothian Visit Co-ordinators: Maomi Saenz (Grapevine) and Jacqui Kerr (West Lothian)
Friday 3 August: Edinburgh Festival Fringe
The delegates were taken to Edinburgh where they enjoyed a fringe show and some free time.
Saturday 4 August: Free time and the Tattoo
Delegates enjoyed free time followed by the late Tattoo in Edinburgh. They were given an excellent address by Brigadier David Allfrey, Tattoo Director, before enjoying a fantastic show.
Sunday 5 August: Free time and Farewell Dinner
An informal day permitted hosts and guests to do what they wanted, followed by a farewell dinner at Bathgate Golf Club.
Monday 6 August: Back Home
Most of the delegates were taken to join flights to the USA or elsewhere on Monday morning, some leaving very early. They took with them fond memories and strong friendships.
We look forward to many more years developing the bonds that have been established between the City of Grapevine and West Lothian.