Grapevine Visit and Burns Supper - January 2019
A Report by Cllr Charles Kennedy
As many West Lothian visitors to Grapevine have experienced before, the welcome and hospitality extended was outstanding and I wish to formally thank P W McCallum, Naomi Sanez and their team as well as everyone else involved for their welcome and hospitality.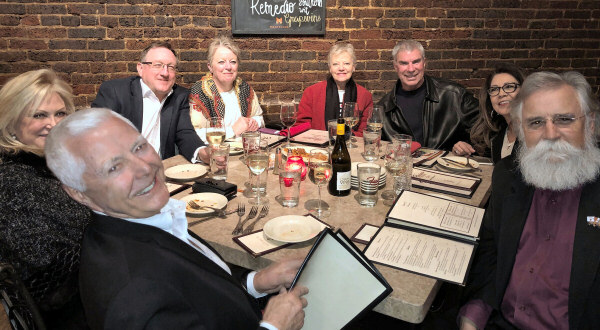 The visit was divided into three parts: social and sightseeing, business meetings and formal events.
Social and Sightseeing
Doug and Laurie Evans showed us around Dallas for half a day with highlights being Dealey Plaza and the sixth floor museum. P W McCallum had arranged a meeting with the museum curator.
Gary and Cynthia Blankenship looked after us for two days of sightseeing which, although taking in Dallas, Fort Worth, The Stockyards, somewhere called Southfork (they found it hilarious that I had never heard of it!), Fort Worth Rodeo and an evening at the impressive Bass Hall Theatre, seemed to end up as more of a tour of fine restaurants, barbecue smoke houses and bars. Usually when we arrived at a restaurant we would find some members of the CVB in attendance.
Business
P W McCallum had arranged a number of interesting and hugely informative business meetings. These included:
A General Overview with PW McCallum, Executive Director, who took me through the planning and processes of the last 30+ years which have resulted in the taking Grapevine to where it now is as well as reviewing future visions and plans.
Business Development with Ellie George, National Sales Manager, who took us on a tour of a selection of developments used for bringing business into the area from shopping, through water parks to hotels and conference facilities and explained how she and her team encourage and sell the use of these facilities from major conferences to staycations.
Economic Development with Bob Farley, Director of Economic Development. I could have spent much longer than the hour we had with Bob. Hugely experienced and knowledgeable person willing to spend time explaining how his business contacts and business experience has influenced and continues to influence the growth of Grapevine. Willing to share his knowledge from his days working with Ross Perot (first billionaire) to the current day to assist others in their development - we need someone like this driving our development of West Lothian.
Grapevine in General with Mayor William D Tait - enthusiasm and interest by the bucket load in his town.
Varied Conference Facilities with Cody Jollif, head of Nash Farm - demonstrating how a community facility for families can be utilised to hold a major conference such as the Historic farming trades and skill conference.
Career and Technical Education with Rick Bracy, Director - visiting amazing education facilities and discussing the future of our student exchange. I need to spend time with our education team to go into this in detail as there are a number of elements to discuss and take forward.
Formal Events
I attended, as a guest of the Blankenships, The Grapevine Chamber Awards Banquet which was sponsored by them. It was a hugely interesting evening showcasing the work done by the voluntary sector and at which Mayor Tait received an award.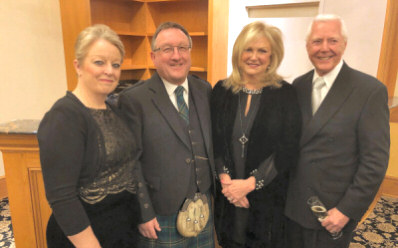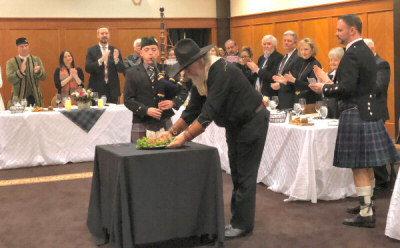 With the Blankenships at the Grapevine Chamber Awards Banquet. Burns Supper - P W McCallum bears in the haggis

Burns Supper - an excellent, if different, evening with locally made haggis, P W McCallum dressed in Texan regalia, The Longs giving the address to and reply from the lassies - dressed in kilt and Texan boots - the Mayor giving an immortal memory with a difference, some stunning music and vocals from a local musician and the address to the haggis and Holy Willies Prayer from a Scot in residence and one visiting (yours truly). Reports and feedback were all very very positive, so Naomi had already started planning next year's event.
I that hope you have enjoyed reading this short overview of an amazing and very busy visit to Grapevine.
Cllr Charles Kennedy.